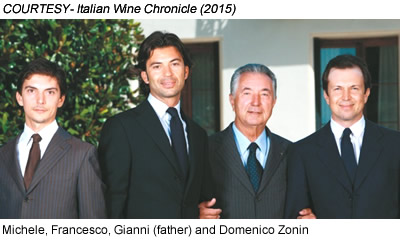 Celebrating 200 years and 7 generations in the wine business
October 29: The seventh generation of Zonin 1821 celebrates the 200th anniversary of the family winery from Gambellara in Veneto, Zonin1821, imported to India by Aspri Spirits since 2007, writes Subhash Arora who believes that the company has reached astronomical heights in in terms of improving quality and increasing its presence in Italy, the United States and beyond since it embarked on a wave of acquisitions since the 1970s
During numerous visits to the winery and Vinitaly, meeting their senior officials including the former president, Gianni Zonin whom I also met once in Delhi, I never knew Zonin as Zonine 1821. The winery has an interesting museum as you enter, showing the early periods and pointing out that the winery was established in 1821. In recent years, I've started to notice 1821 added after Zonin as the name of the winery. One day, I realized that it was fast approaching 200 years of its existence!
The winery this year completed 200 years of Italian wine history, sharing Italian wine culture across the world. The road traveled by the company is marked by important steps such as becoming one of the 5 best wine producers in Italy. It competes with Family Antinori to be the largest family-owned viticulture and winemaking company in Italy with an annual turnover of 200 million euros.
Since its inception, the goal of the Zonin family has been to produce wines according to the wishes of the market and to help create a new contemporary wine culture, where native Italy blends with multiple international traditions.
Read also: Extract from the archives (2006): Zonin Patriarch optimistic about the Indian market
Three guiding principles have enabled the company to achieve prestige and recognition on the international scene: tradition, attention to wine estates and strong entrepreneurial dynamism, reinforced by a series of acquisitions made since the 1970s.
Dominique zonin, the eldest son of the family patriarch- Gianni Zonin, became president in 2015 when the father passed the torch to his 3 sons. An important generational shift has taken place foritalian wine when Dominico, already managing director of the family wine group, became the leader of the group as chairman. He runs the business with his brothers Francois and Michele as the vice-presidents. In 2019, Francesco was given full responsibility for the American subsidiary 1821 Fine Wines & Spirits.
Read also: DWC: Zonin Wine Dinner with Zonin
The slow and progressive generational changes were without traumatic transitions. From 2006, when Francesco, Michele and Domenico took over various areas of responsibility: production, sales and marketing, administration and management control. Gianni took a step back, gradually handing over the ownership and management of the business to his sons. Today more than 80% of production is exported.
Over the decades, the new generations of Zonin have embarked on the acquisition of the best vineyards and estates in Italy. Zonin 1821 also owns an American domain, the Barbourville vineyards in Virginia, which was purchased in the 1970s, as the first acquisition outside of Italy. A company in Chile to manufacture Chilean Dos Almas labels was added later.
Read also: Characteristic: Zonin, Barboursville Virginie and Jefferson
1821 Great Wines & Spirits in the United States is the largest private viticulture and winemaking company in Italy. It was established as an independent subsidiary in the United States through which the total portfolio of Zonin 1821 is distributed in all 50 states of the United States. Zonin exports to 120 countries around the world, including India.
Zonin1821's portfolio includes nine wineries located in the seven prestigious wine regions of Italy – Veneto, Friuli-Venezia Giulia, Piedmont, Tuscany, Lombardy, Puglia and Sicily. Zonin is committed to ecologically sustainable viticulture and strives to pursue the philosophy of preserving local wine traditions, the land and the culture of their respective regions.
The vineyards of the Zonin family extend over more than 9,800 hectares of land, of which 5,000 are dedicated to vines. An additional 1,200 acres, of which 225 are dedicated to vineyards, are located at Barboursville Vineyards. Zonin has grown into a 200 million euro company.
Read also: Star interview: visionary Cavaliere Gianni Zonin
Aspri the importer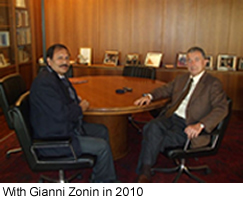 Aspri Spirits has represented the Zonin Familia wine portfolio for India since 2007. In addition to a range of Zonin Ventiterre wines from Chianti, Soave, Valpolicella, etc. Prosecco, Butera from Sicily and some other wines. Brand growth has been steady, says Arun kumar, the Delhi-based director of Aspri.
'It is indeed an honor for us at Aspri Spirits to be associated with Famiglia Zonin. The completion of 200 years of Famiglia Zonin is an incredible journey and we are sure that many more steps will be taken, "he said.
Read also: Italian wine bank as collateral
Zonin is one of Aspri's important partners for its portfolio of imported wines. Perhaps they would consider celebrating this milestone in the presence of a visitor from Zonin who sent frequent visitors to India to service the market – before Covid. Maybe they could consider a special offer for their portfolio labels in India and Retail Travel Counter for wine lovers so they can emotionally connect with Zonin and find out for themselves how the quality and variety of their labels have evolved over the past two decades.
In any case, delWine salutes Zonin 1821 for having accomplished 200 years with a solid partnership with Aspri for 14 years. JAI HO!
Subhash Arora
If you like this article, click the Like button