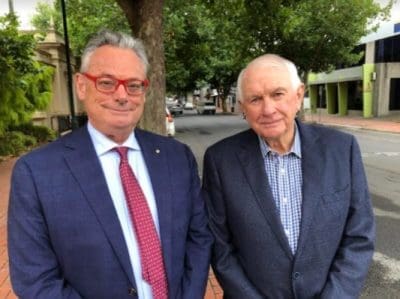 Ex-diplomat seeks new strategy on China
FORMER Australian Ambassador to China Geoff Raby offered relief to worried farmers but also cause for concern ahead of the launch of his first book in the town of Hamilton in south-west Victoria.
The former 'realistic' diplomat and economist was in the so-called wool capital of the world to do a Western District launch of 'China's Grand Strategy and Australia's Future in the New World Order," a critique of Australia-China relations and where to go from there.
A few days after the Prime Minister Scott Morrison and Leader of the Opposition Anthony Albanian attempted to score political points by exchanging jokes about the 'Manchurian candidate' for Federal Parliament, Dr Raby presented his views on the Australia-China relationship and its trade implications.
Dr Raby was Australian Ambassador to China from 2007 to 2011, Ambassador to APEC from 2003 to 2005 and Ambassador to the World Trade Organization from 1998 to 1998. He was awarded the Order of Australia in 2019 for his services to Australia-China relations and international trade.
He told his Hamilton audience that recent backlash between Liberal and Labor Australian politicians criticizing each other's stance on China as 'badges of honour' would make it harder for Australia to regain the way to a normal relationship with the communist power.
"I think it's troubling that both sides of politics think so little about Australia's national interests.
"The narrowness of the debate and the short-term political gain it is directed towards is truly deeply, deeply troubling."
Despite China maintaining tariffs and other trade measures against Australian barley, wine, beef, lamb, seafood and coal, Dr Raby said some in Canberra still think that the current state of relations between Australia and China was "excellent".
"There are people who think that's how it should be and when I talk about improving the relationship they say 'he's an old fuddy duddy, he's from the past, the way we are now is the way we should be".
"In ideological terms, they see China as a fundamental threat to the Western value system that must be resisted at every turn and some of them brag about how Australia is leading in this area.
"As a realist, I have no idea why we would want to direct this," he said. "I would, as a realist, want us to work on what's in our interests and try to advance those interests."
Dr Raby said that despite the state of relations between Australia and China, he did not believe China would impose more economic restrictions on Australian products.
"They did what they did and I think their assessment would be that it wasn't very successful.
"It's tended to be counterproductive, other nations have tended to side with Australia and so I think you see on the whole China taking a step back from what we call wolf warrior diplomacy.
"I think they'd like to be in a position where they could 'kill us with kindness', but because of what's going on as you say, it's not possible for them to start trying a reset," a- he declared.
He agreed it was likely the prime minister and opposition leader was also of the view that China would not expand its trade measures.
"I think their calculation was, it can't get any worse. Yes, they're taking a risk with wool, and they're taking a risk with other products, but fundamentally I don't see Beijing continuing that kind of approach.
Dr Raby said Australia's World Trade Organization actions against China over wine and barley should play out before the country tries to reset its relationship with Australia.
"So where we are is probably where we're going to stay despite the noises coming out of Canberra.
"There's nothing with the individual policy issues that the federal government is trying to pursue, it's the way they've gone about it, the lack of diplomacy, the will, as we saw last week , to militarize foreign policy, to be confrontational, to even brag about how we stick it to China as a badge of honor," he said.
"That's not how you run the nation's affairs diplomatically and the big problem is that we don't fully recognize that this is an asymmetric relationship, we actually need China more than 'She doesn't need us, and we need to understand that and embrace creative diplomacy."
Dr Raby said Australia should protect its liberal values, by upholding and defending them, and need not kowtow to China.
"But we don't have to make Chinese leaders lose face and poke them between the eyes, nor should we make poking Chinese leaders in the eyes a badge of honor – that's an approach total ideology.
Dr Raby cited incidents such as Australia's constant statements about the potential for war in Taiwan, Mr Morrison's call for a World Health Organization investigation into the potential source of the outbreak of coronavirus in Wuhan, as examples of how Australia had taken on China in a "we don't need to.
"We had a steady buildup over a period of time, if you will, of diplomatic sleight of hand, which we publicly gave to China.
"Malcolm Turnbull, when he introduced the Anti-Foreign Interference Act, which is supposed to fight all countries equally, spoke in Chinese and said 'we have stood up,'" he said.
"It means one thing and one thing only, it's only about China and that's how Beijing read and interpreted it."
Other like-minded democracies – the United States, Canada, New Zealand, the United Kingdom and some European countries – have managed to maintain normal trade and diplomatic relations with China, while Australia has had no official contact with China since 2016, he said.
"China is not behaving well…. but that's the nature of the world we live in. Maybe we could get a little smarter in the way we do things and maybe we could let diplomacy play a bigger role, but we've marginalized diplomacy in this country. We made ourselves an outlier," he said.
On the question of what could normalize relations with China, Dr Raby said Australia must first pass the upcoming federal election.
"We need to get back to a period where every week the government is not demonizing China and we need to get a lot more discipline in government and public comment.
"And I hope you will have a calmer period and maybe there will be a possibility of diplomatic contacts," he said.
"We need to 'disarm' Chinese politics in terms of domestic politics."
Dr Raby later said the problem for Australia is that it is a high priced market, especially for meat and wool products, and is on its way to becoming a developed within five years.
"Diversification is doable, but it won't be as profitable and it will affect wool, it will affect everything if there is more action against Australia.
"I don't think we're going to have more measures, I think things are where they are and the relationship is as bad as it is, it doesn't have to fall anymore.
"But I've said it before and I've been proven wrong," he said.
The current government seems to have a great ability to confuse me every time I say, well, how can this get worse?
Dr Raby said China might have thought, until last week, that a change of government could provide space for a reset.
"But they would never reset if the (Australian) government changed, they will take a while to be convinced."
Dr Raby later said he did not expect Australia to initiate a reset of its relationship with China, but believed it would be more likely if the US changed its stance on China. .
Hamilton district wool producer and manufacturer Peter Small said the wool trade between China and Australia is a perfect example of interdependence. He said it was in China's interest to continue buying Australian wool because it needed it for its textile industry.
"I think the wool industry is probably the safest, because there are no other options for China for quality wool."
But he believed Australia was now "so locked into the United States" that it would be impossible for the Australian government to change its position on China without the United States also changing its position.
"The great powers will do what they want, sometimes they behave well, sometimes they behave badly, and we must realize the extent of our power and use our power in the national interest and not get caught up in issues that are beyond our ability to control.
"We must do what we can do in our national interest, but not use our precious energy to try to achieve things that we have no way of influencing."
Following Dr Raby's presentation, the executive director of the Australian Wool Exporters and Processors Council, Peter Morgan, said he hoped China's and Australia's interdependence in wool would continue.
He said China – as the world's largest wool-processing country – and Australia as the largest producer of merino wool – were interdependent, which created an opportunity for Australian producers.