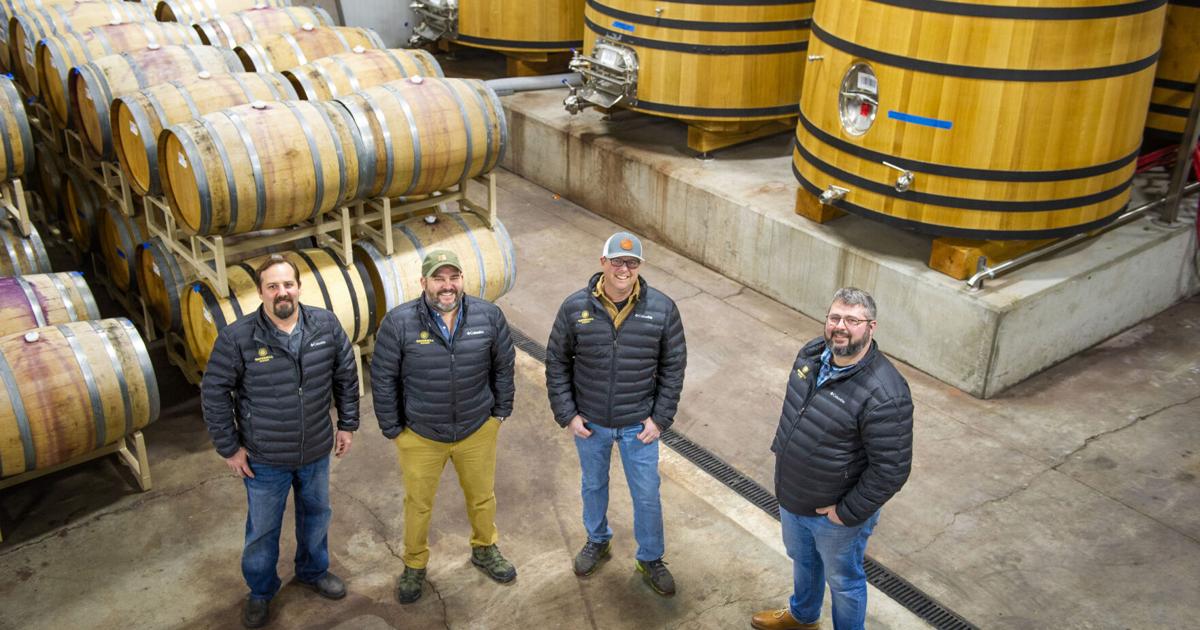 Milton-Freewater Sees Spike in Wine Business with Watermill Expansion | Business
MILTON-FREEWATER – Interest in wine processing is growing here with construction underway to expand the already massive watermill building on East Broadway Avenue, providing new winemakers with a facility they could use to start.
The building currently spans approximately 100,000 square feet and is shared by Watermill Winery and five other small wineries. The expansion will add approximately 65% ​​more space and the possibility of a larger winery center.
Milton-Freewater City Manager Linda Hall reports that she has already received more liquor license applications in anticipation of the watermill expansion.
Watermill winemaker Andrew Brown said Thursday (January 20) that the project was about 70% complete.
"What we envision is serving people who want to be in the wine business, in a way that Milton-Freewater is not currently offering," Brown said.
"Basically, it's full-service wine production, from receiving to packaging and everything in between, which includes fermentation, analysis, wine and barrel aging."
Wine processing may not be new to the Walla Walla Valley, which was designated a U.S. Wine Country in 1984 and is now home to about 120 wineries in southeastern Washington and northeastern Washington. Oregon.
But nestled within its 502 square miles is Milton-Freewater's relatively young and tiny The Rocks District.
It's less than 6 square miles and already has 33 winery members since becoming its own AVA in 2015.
The number of members continues to increase.
"It's a very desirable location because it's very distinctive," said Walla Walla Valley Wine executive director Robert Hansen. "The grapes they grow there have very visible and recognizable characteristics, and there are very flavorful qualities of wine that come from the stones of this region.
"I think it's desirable because of its uniqueness."
The Brown family has a long history of preparing wine processing around Milton-Freewater.
The watermill was founded in 2005, shortly after the Browns planted their first vineyard. This follows more than a century of family farming and commercial apple growing.
"The industry has wanted this for a long time," said Andrew Brown.
"I think you're starting to see more consumer interest in wines produced out of the region, so now it's a bit more possible for wineries to put a stake in the ground and produce recognized wines."
More wine trade would mean increased competition, but Watermill likes the idea.
"The more the better, that's what I'm saying," Brown said.
"Honestly, it's something for my family and for our company that we've hoped for over the past 15 years, to really have a core of wineries and tasting rooms that helps drive the wine industry forward. our side of the valley."
According to Brown, interest in the Watermill facility has already come from winemakers in Walla Walla as well as other parts of Oregon and Washington, and even as far south as California.
"We're set up to accommodate rotating owners," Brown said.
"Basically, this means that people who have existing vineyard licenses in the State of Oregon, or people who wish to have a vineyard license in the State of Oregon, can actually legally share our space. . There are certain advantages to this, which would make it a better business strategy.
"What our facility allows startups to do is essentially get licenses without the infrastructure costs of setting up a facility or a building."
Along with increased interest in wine production in Milton-Freewater, concoctions are improving the consumer experience.
The tasting rooms would help bring in more dollars for tourism, much like Walla Walla generated from its downtown plaza.
The watermill is set to unveil an upgraded basement patio this spring, with the addition of food service as well as the return of live music.
Across from the Watermill Winery, a new Los Rocosos tasting room is planned, with preparations to open this spring.
And more continues to grow for Milton-Freewater wines, according to the city manager, who is excited about the possibilities.
"It means notoriety, quite frankly," Hall said.
"I think it will ultimately be a huge draw. We are already seeing an increase in the number of businesses coming here with liquor license applications because of this facility. Obviously more jobs, more money in the economy. Always a good thing.